Nokia Lumia 610 release date set for April, price revealed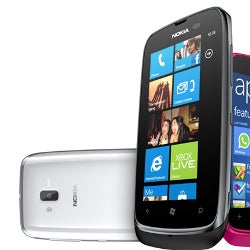 The Nokia Lumia 610 is not only the most affordable Windows Phone handset by Nokia, but it also promises to keep the buttery smooth user interactions on the platform unharmed. The Lumia 610 aims to open up the smartphone world to newcomers, and good news is that it will arrive very soon in Asia. In the Philippines, for example, the phone will go on sale in the last week of April and other Asian markets like China, Hong Kong, Indonesia, Malaysia, Singapore, Taiwan and Vietnam will get it in the following weeks.
When it comes to other regions, Nokia's Lumia 610 release date is set for this quarter.
The handset runs on Windows Phone 7.5 Tango and features all you'd expect of Microsoft's platfrom, along with tethering which is new for the Lumia 900 and 610. You also get mobile Office for productivity on the go, along with Nokia's own apps - Nokia Maps, Nokia Drive, Nokia Transport and Nokia Music.
The tradeoff Nokia made to cut the price on the Lumia 610 is in the specs. The handset features an 800MHz processor and only 256MB of RAM. An NFC-enabled version of the same handset is expected to grace Orange UK in the third quarter of 2012.
The Nokia Lumia 610 will launch in black, cyan, magenta and white, and will be priced at some $247 (189 euro) before taxes.
source: Nokia