Nokia DC-18 external charger is alien design: modern, simplistic, compact
39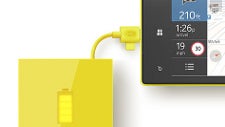 The
Nokia Asha 501
just got
officially unveiled today
bringing a lot of the Lumia Windows Phone design language to the ultra affordable Asha feature phones, but along with it came a little accessory that caught our attention.
Disgruntled with uninspiring designs in the land of Android (cough, Samsung), this newly unveiled Nokia Universal Portable USB Charger DC-18 looks like alien technology. It's minimalist, it's compact, it's colorful.
A single-color block, the Nokia DC-18 external charger packs in
1720mAh of extra juice
that would in most cases double the battery longevity of your phone. It features a retractable microUSB cable that you use to charge devices, and when tucked inside, this really is one of the best designed accessories we've seen recently.
The large battery indicator on the front shows how much juice you have in it, and on the back is a simple Nokia logo. The whole charger weighs only 65g and you can get it in a color that would match your Nokia devce. It of course works with all other devices supporting microUSB. Take a look below.
source:
Nokia