Nokia 9 PureView rumor review: Specs, design, pricing
29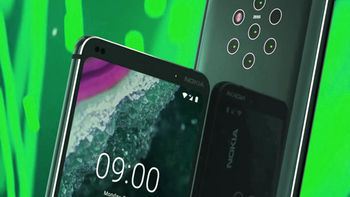 It's been high time for Nokia to release a really high-end phone for a while now. The Nokia 8 Sirocco, which is Nokia's current flagship trooper, has been struggling to establish itself as viable competition to the big boys although Nokia is one of the regularly-recommended manufacturers in the entry-level and mid-range space, its lackluster presence in the ultra high-end smartphone segment.
This is very likely to change come MWC'19 later this month as Nokia is set to show us something very intriguing - its long-rumored penta-lens phone, possibly called the Nokia 9 PureView. We've been hearing lots of rumors regarding this secretive gadget, but there's lots of wheat to be weeded out from that chaff.
Let's go!
Design

It seems that the Nokia 9 will put faith into the tried and tested formula of mixing glass and metal in a premium sandwich that has been eagerly accepted by the industry. How do we know this? Well, simple, seemingly-official press renders of the phone got leaked a couple of weeks ago, giving us an extra-good look at the glass-aluminum sandwich that the Nokia 9 will be. With 18:9 aspect ratio and overall build that looks both contemporary and reminiscing us of Nokia's established design language, the Nokia 9 definitely looks like it could be the ultra flagship phone that the company has been missing. Aluminum frame and a gl




Here's that glorified render that we're talking about: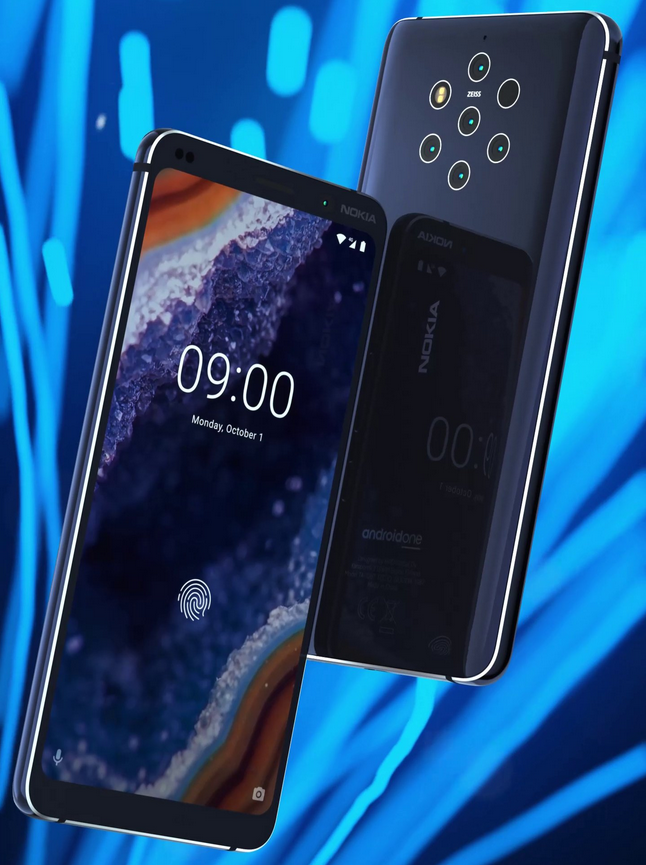 Nokia 9 leaked press render
As you can clearly see, the device will most likely come with a more traditional design and won't employ a notch, a punch-hole, or any other trickery to look flashy. This means that the Nokia 9 won't be going for that bezel-less look that has been the endgame goal of many existing and upcoming devices that strive for that all-screen look. Fortunately, this also means that phone purists and traditionalists should find a rather compelling option in the Nokia 9. As a matter of fact, it could be one of the very, very few new devices to still rock the unobstructed old-school design that's slowly dying away.
The Nokia 9 is also expected to feature an in-display fingerprint scanner judging from the rather non-chalant depiction of a stylized fingerprint on the phones' display. Of course, nothing is official until it is.
Hardware
Specs-wise, we expect a 5.99-inch display to make an appearance on the Nokia 9. No intel on whether it will be an LCD or an AMOLED panel just yet, but judging from the rest of the high-end specs that the phone is expected to carry, we are likely dealing with an AMOLED panel here. As per one of the leaked materials, the display will be a QHD+ HDR10-compliant one, which is as flagship-grade as it gets.
Word on the street is that the full monty might be powered by a Snapdragon 845 chipset, which might sound a bit odd as the Snapdragon 855's full commercial rollout is just around the corner. Still, the Snapdragon 845 is still a perfect adequate chipset and it would make lots of cost-cutting sense for Nokia to utilize the older Qualcomm offering. Still, nothing is official until it is, so stay tuned, Nokia might surprise us and use a Snapdragon 855 chip.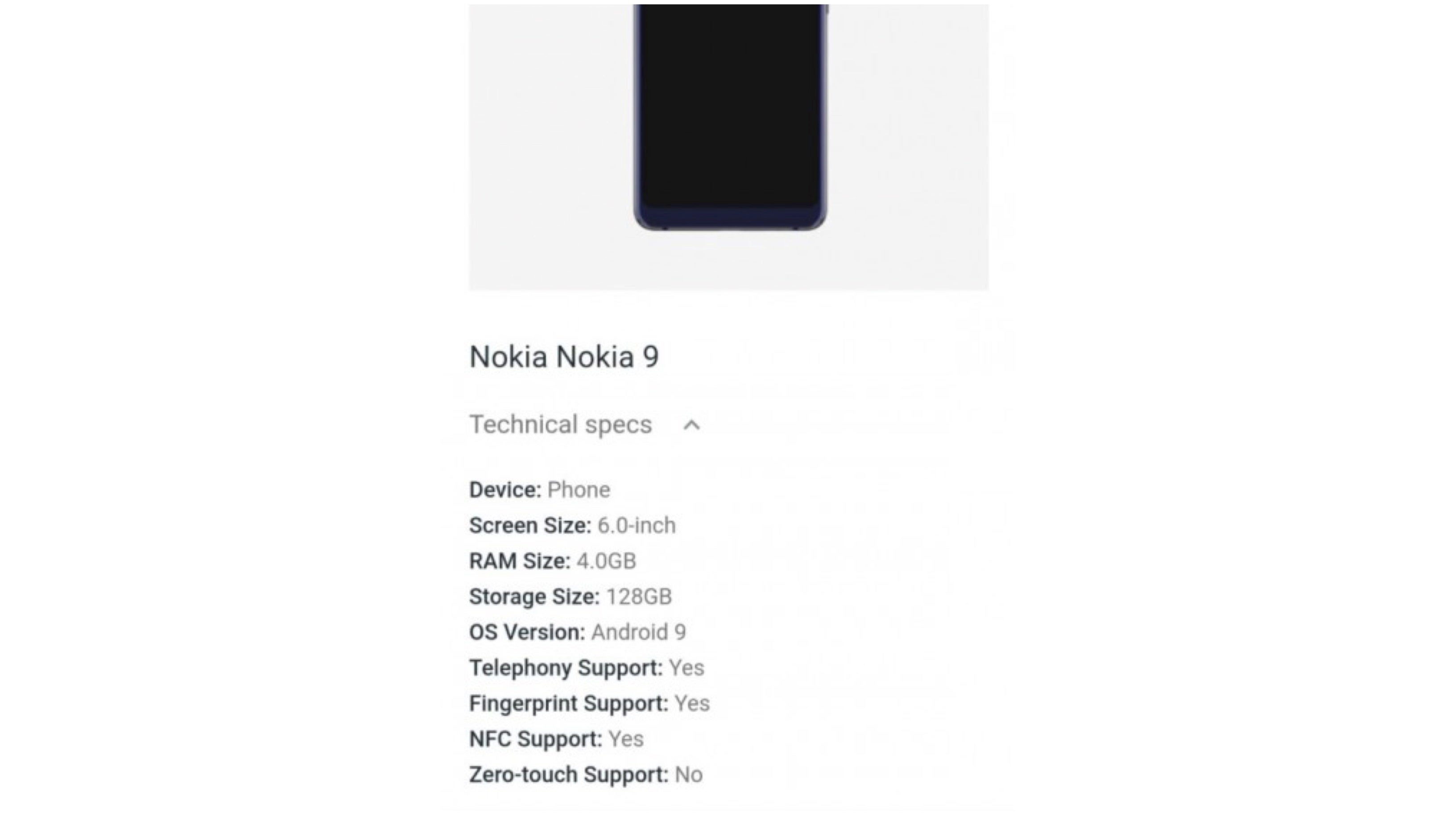 Storage-wise, we are likely faced with 6GB of RAM right off the bat, which is a perfectly adequate amount of RAM to have even in 2019. Yes, some flagships these days might be pushing the boundary with either 8 or 10GB of RAM, but most of those are merely doing it for bragging rights.
Moving on,128GB of native storage, on the other hand, seems like a safe bet for the Nokia 9's storage endeavors. Who knows, we might even see a microSD card slot here. Data hoarders, cautiously rejoice!
Camera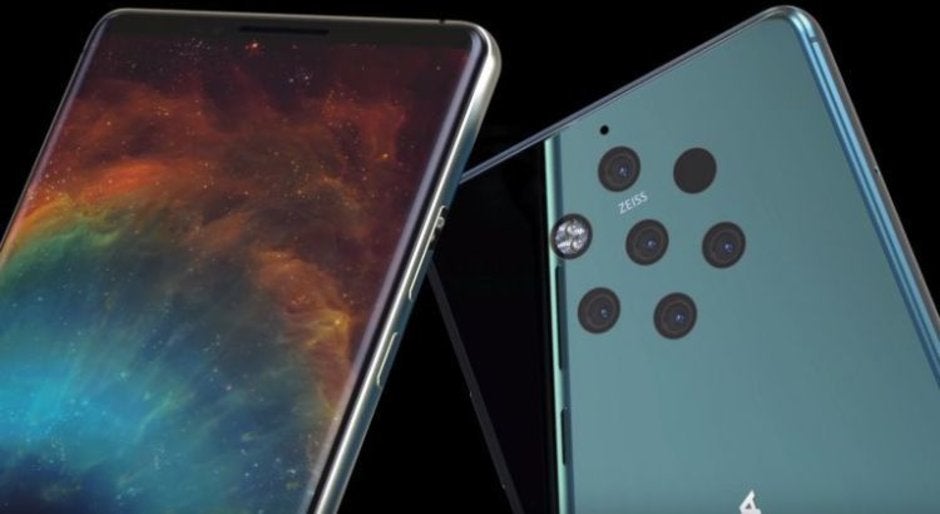 By all means, the most appealing aspect of the Nokia 9 will be its camera setup. In a time when phone makers are venturing past the tried-and-proven dual-camera setup with triple- and quad-camera setups, Nokia will up the ante with a Zeiss-branded penta-lens camera system. That's right, there will be five cameras at the rear to trigger your tryphophobia.
Judging from a leaked promotional video, each of the cameras will take a shot when you press that trigger, allowing you to later choose between the different shots. Capturing exceptional detail and 10 times more light than usual will be among the goals of the penta-camera system, as well as superb HDR and dynamic refocusing in post-processing.
Supposedly, Nokia might have worked closely with another Foxconn partner--Light--in order to develop its penta-lens setup. While this is still in the realm of uncertainties, Light's camera solutions boast unparalleled sharpness and up to 13 stops of dynamic range, which certainly sounds more than promising. Add to these the depth control that only a multi-lens camera can bring, some computational photography chops, and we are getting very excited to see if Nokia would indeed announce a phone with a 5-lens camera at MWC. We will live, and we'll see.
Software
Just like any other Nokia phone, the Nokia 9 will be part of the Nokia One program and will come with Android Pie right out of the box. Two years of software updates are guaranted, and so is unlimited Google Photos storage for all of the nifty pictures you are going to capture with the penta-lens setup. Now, we are not entirely sure if the phone will come with any
Price and release date
As HMD Global revealed recently, we should expect to see the Nokia 9 PureView announced on February 24, just a day before MWC'19 officially kicks in. At the moment, the release date remains unconfirmed but a launch in early March is therefore extremely likely. There's a high possibility that the initial supply will be mainly limited to European markets, but a wider global rollout will take place later on. Speaking of which, it's claimed that the Nokia 9 PureView will retail at either €749 or €799 depending on the country. In China, rumors peg the Nokia 9's price at the local equivalent of $880.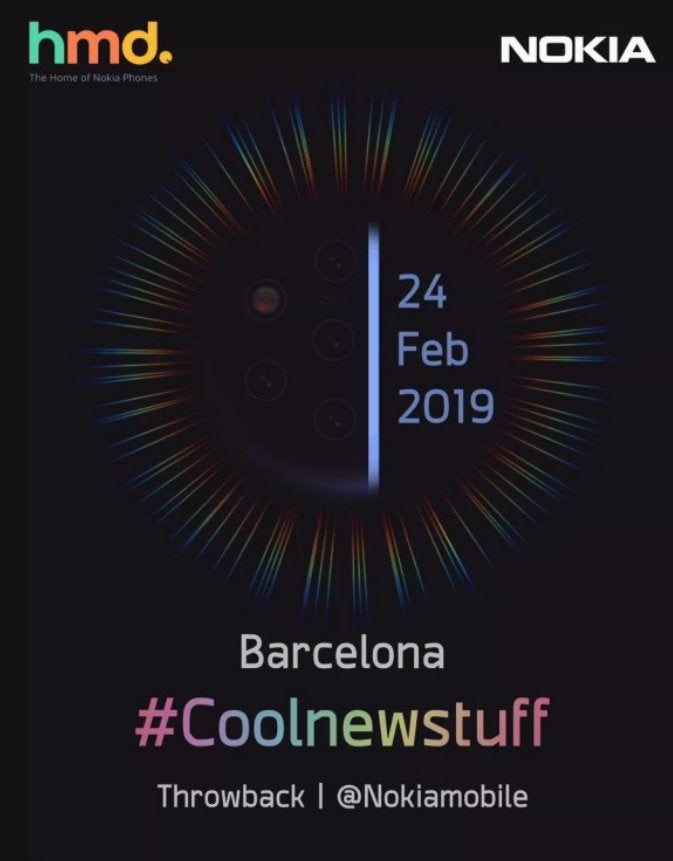 Nokia 9 PureView MWC teaser hints at the upcoming penta-lens setup