The Nokia 9 PureView could be an absolute bargain, unlike Sony's Xperia 1
30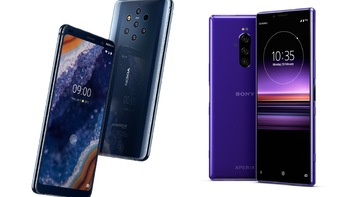 Leaked Nokia 9 PureView and Xperia 1 press renders
For the likes of Nokia and Sony, MWC is where all the action will be taking place. Both of these brands have a range of smartphones up their sleeves and with just a few days to go, the European pricing of each model has now
leaked
.
Kicking things off with the long-awaited
Nokia 9 PureView
, this smartphone is set to arrive with a whopping five rear cameras and Qualcomm's Snapdragon 845. Previous rumors suggested a retail price of €749 (€849) was on the cards for most European markets. But in light of the numerous delays, it's now claimed that this has been lowered to €599 ($679).
Naturally, this figure could be wrong so it's better to wait until its official unveiling on Sunday before getting too excited. But if correct, the Nokia 9 PureView will undercut both the
iPhone XR
and
Galaxy S10e
by around €150 ($170). Additionally, the €599 price tag places it just €50 ($56) above the
OnePlus 6T
which will probably be justified by the impressive rear cameras.
On the other end of the flagship spectrum is Sony's next flagship. Set to be called
the Xperia 1
, the same source mentioned a price of €949 ($1,076), placing it in between the Galaxy S10 and Galaxy S10+ which cost €909 ($1,031) and €1,009 ($1,044) in most markets. The Sony Xperia 1 should be available starting June in White, Purple, Grey, and Black.
Elsewhere in Sony's lineup, one previous leak suggested that the
Xperia 10 and Xperia 10 Plus
would cost €349 ($393) and €429 ($484) respectively across Europe.
Lastly, it was
revealed yesterday
that Nokia has plans to announce a number of low-cost smartphones. As things stand there's no info regarding the Nokia 6.2's pricing. However, it's claimed that the new Nokia 4.2 will cost €199 ($225) and the Nokia 3.2 should retail at €149 ($169). Similarly, the Nokia 1 Plus (or Nokia 1.2) should be available starting at just €99 ($112).
Because European pricing is typically higher if any of these devices reach the US market price tags should be lower.