Sony Xperia 1 (XZ4) leaks in purple with three cameras and huge display
31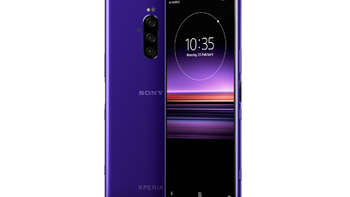 As revealed recently, Sony's mid-range smartphone series is about to go through a pretty drastic rebrand. The company is axing the 'Xperia XA' lineup and replacing it with two new models dubbed the Xperia 10 and Xperia 10 Plus.
Similar to this, it now turns out that Sony is ending its not-so-popular 'Xperia XZ' series. The lineup's replacement? A new smartphone dubbed the Xperia 1 which, thanks to Evan Blass, has now been shown off in leaked
press renders
ahead of its unveiling next week.
A Tall OLED Display With HDR Capabilities

Coinciding with the CAD-based renders from months ago, the Xperia 1 marks a big change in direction for Sony's design philosophy. Gone is the 18:9 curved OLED display found on the Xperia XZ3 and in its place is a new 21:9 flat OLED panel that supports HDR capabilities and boasts a 6.5-inch diagonal. This is paired with symmetrical top and bottom bezels, as well as razor-thin side ones.


Looking at the aluminum frame, Sony has once again opted for a side-mounted fingerprint scanner but, for some reason, this doesn't double as the power key. Instead, a separate button appears to have been placed just below the sensor. Similarly, above the fingerprint pad sits a volume rocker while towards the bottom of the phone lies what is presumed to be dedicated shutter button. The Sony Xperia 1 also includes a bottom-firing speaker and a USB Type-C port. Unfortunately, there's no sign of a headphone jack.
Three Rear Cameras, Two More Than The Xperia XZ3

Over on the rear, Sony has maintained the glass construction and centered camera module which have both been seen in the past. However, this time around it has chosen to equip the flagship with an impressive three rear cameras, thus putting the Xperia 1 on par with the Galaxy S10/S10+ and ahead of Apple's iPhone XS lineup.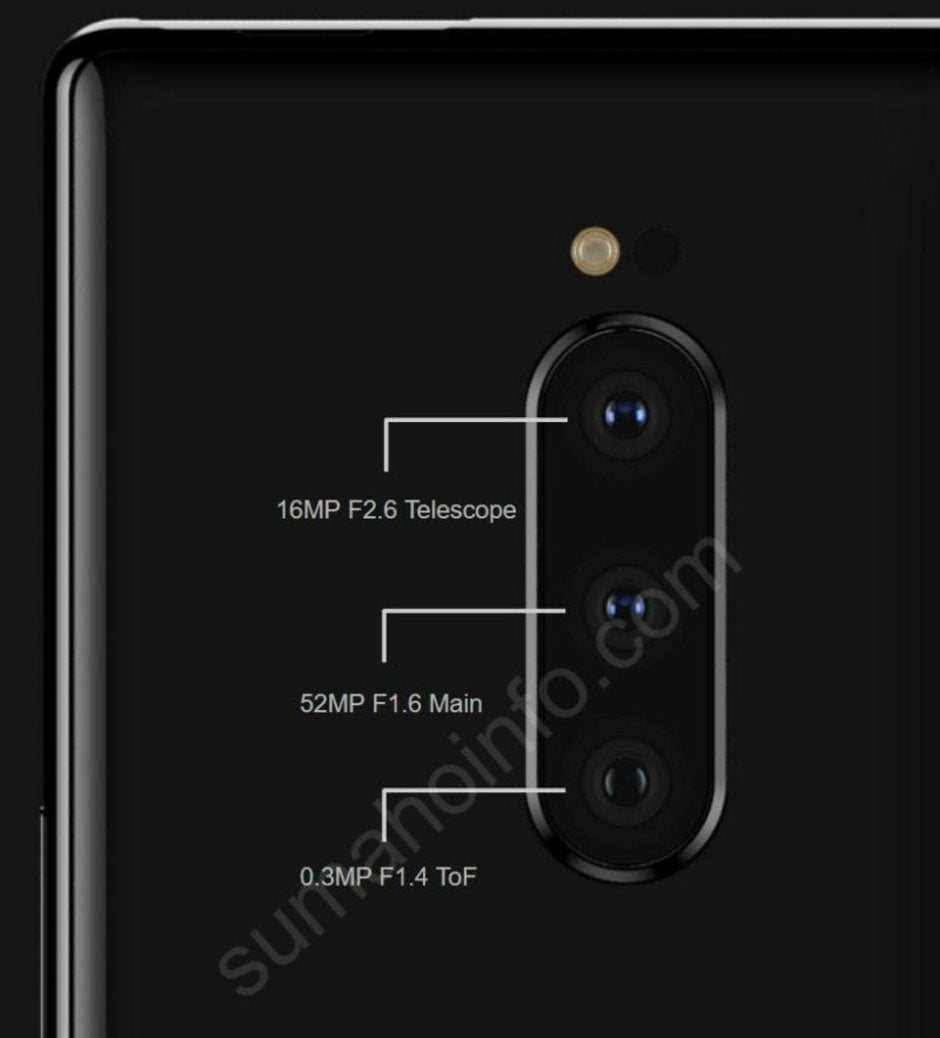 As things stand, the exact specifications of each sensor are yet to be confirmed. Nevertheless, one
recent leak
suggested that the smartphone's primary camera would boast an impressive 52-megapixel resolution paired with an f/1.6 aperture.

If this is indeed the case, Sony should be able to combine multiple pixels into one, thus producing higher quality images at resolutions closer to 10-megapixels. Moreover, the wider aperture means low-light photography should see vast improvements. The camera is expected to support other features such as super slow-motion video too.

Like rival smartphones, the secondary camera is said to include a dedicated telephoto lens capable of either 2x or 3x optical zoom. This sensor should perform fine in well-lit situations but could struggle in low-light conditions.

Lastly, this leak pointed towards the presence of a 0.3-megapixel Time-of-Flight camera which should help improve depth sensing. As a result, bokeh imagery could look drastically better. A similar implementation can currently be found on the Galaxy S10+ 5G.
The Rumored Specifications Are Quite Impressive
Internally, Sony is said to have opted for Qualcomm's Snapdragon 855 paired with 6GB of RAM and 128GB of storage. There's no word as to whether other configurations will be available but it's certainly a possibility.

According to rumors, these specs will be paired with Android 9 Pie straight out of the box and a large 4,400mAh battery which is certainly welcome considering the size of the display. 4G LTE, NFC, Bluetooth 5.0, and IP68 water and dust resistance are to be expected too.
The announcement, Release Date, and Pricing
The Sony Xperia 1 will make its first official appearance next Monday, February 25th. At
Sony's MWC press conference
it'll be joined by the Xperia 10 and Xperia 10 Plus that were mentioned in the opening of the article.

Like the Xperia 1, the Xperia 10 series will boast tall 21:9 displays and, if leaked renders are anything to go by, they will have massive foreheads and no chins rather than symmetrical bezels. The two models are also set to include dual-camera setups on the rear.

All three devices should reach consumers sometime in the second quarter. In Europe, the Xperia 10 and Xperia 10 Plus should cost €349 ($393) and €429 ($484) respectively. The flagship Xperia 1, on the other hand, could cost in the region of €800 to €900 ($905 to $1,020). In any case, prices in the US should be lower if released.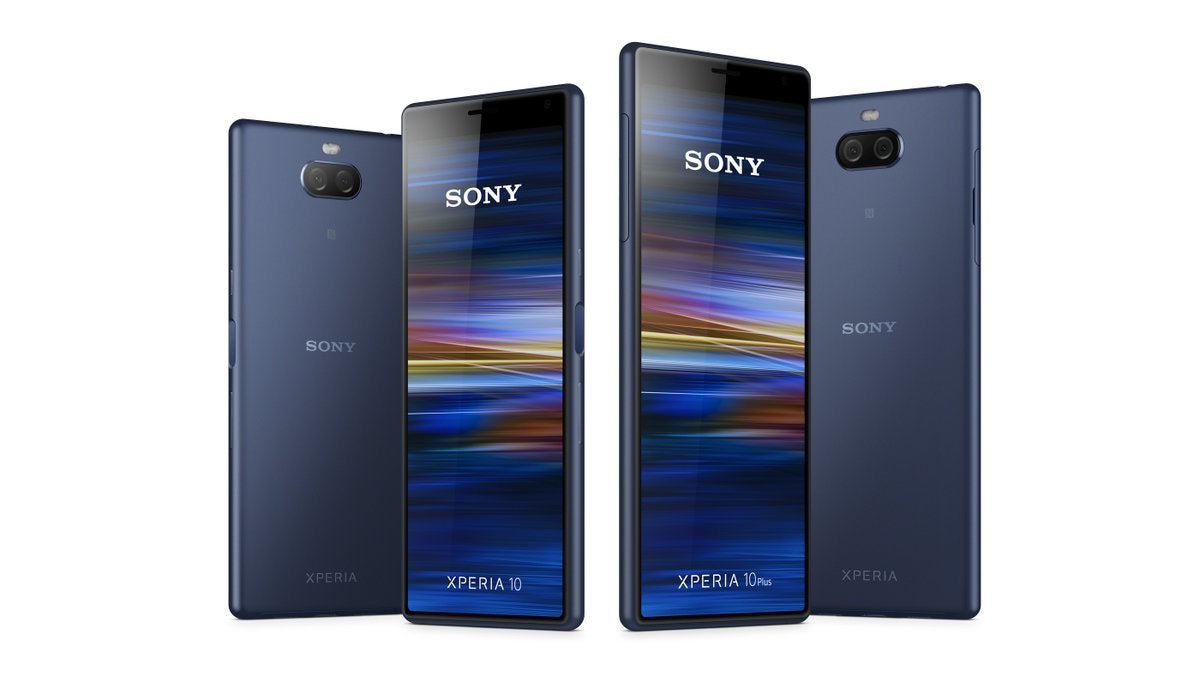 The Sony Xperia 10 & 10 Plus