No 'free iPhone 8' carrier promos make Wall Street a happy camper
3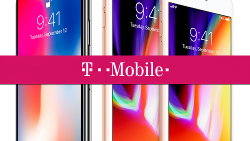 While compiling our
best deals on the new iPhone 8 and 8 Plus preorders
that started last week, we couldn't help but notice that there is barely a BOGO on the table, save for AT&T's offer for DirecTV and U-verse subs. Last year, T-Mobile started an all-out carrier war with its free iPhone 7 offer, unleashing a pricing match that ultimately left every carrier poorer than it would be otherwise.
For the iPhone's 10th anniversary editions, however, T-Mobile bit its tongue, and is only giving away a bit more generous trade-in offers, and a new iPhone upgrade program. This has apparently made Wall Street investors sigh with relief, and they didn't maul carrier stocks.
That's not to say that the carriers won't introduce promos for the lucrative holiday season, after the early adopters have had their fix at full retail price, but for now, Deutsche Bank analysts are gloating that the modest
iPhone 8
promos "
help improve depressed sentiment around Wireless, given what appears to be an intent to maintain competitive rationality from a margin perspective
." That's finance speak for "read my lips, iOS fans - no carrier subsidies for you this time."