No Nexus Two says Google, but history says otherwise
This article contains unofficial information.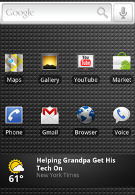 Google CEO Eric Schmidt has made it clear that the Nexus One experiment has been a success. The executive said that it was so successful that a Nexus Two is not necessary. He said, "The idea a year and a half ago was to do the Nexus One to try to move the phone platform hardware business forward. It clearly did. It was so successful, we didn't have to do a second one. We would view that as positive but people criticised us heavily for that. I called up the board and said: 'Ok, it worked. Congratulations – we're stopping'. We like that flexibility, we think that flexibility is characteristic of nimbleness at our scale." And while some might argue that Google's plan on letting the consumer pick the phone he wants and then decide which carrier to run it on never got off the ground, Schmidt obviously feels that his company has proved its point and is ready to move on.
But is Google done with the Nexus program? If history is any guide, the words that come from Google cannot be trusted. Let's look at the timeline. In October 2009, Google shoots down rumors that it is preparing to launch a line of handsets unlocked to work on multiple carriers. Google VP Andy Rubin rejects the idea and says that Google is, "not making hardware…we're enabling other people to build hardware." A month later, the N-One is introduced and is launched in January 2010. So if Google says that there is no Nexus Two, an introduction of the phone is probably right around the corner.
HTC Nexus One Specifications
|
Review
source:
adroinica