Nexus Prime unveil may be October 27th in the UK
25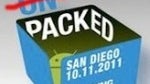 The Android world let out a collective WTF today when
Google and Samsung announced
that they had come to a decision that it isn't "the right time to announce a new product". Rumor has it that the "right time" will now be rescheduled to October 27th.
The speculation has been that Google and Samsung delayed the event to pay respect to Steve Jobs, who
passed away on Wednesday
. So, the reschedule will put the event, which is expected to unveil both the Nexus Prime and Android 4.0 (Ice Cream Sandwich), after both the
release of iOS 5
on October 12th and the release of the
iPhone 4S on October 14th
. The Next Web is claiming that it has received word that the Google/Samsung event has been rescheduled for October 27th at an event in London. The 27th had been the rumored date of the Nexus Prime's release on Verizon, where it will likely be branded either the Samsung Galaxy Prime or the DROID Prime.
It may not make much sense for Google to release the phone the same day as the announcement, but we're hoping that is the plan, because Verizon is said to have an exclusive window on the Nexus Prime and ICS. Some sources have claimed it is a full exclusive, but we have no reason to believe that. It seems far more likely that Verizon will have a timed exclusive of about a month, which would mean that other carriers wouldn't see the Nexus Prime until around December at this point.
Update
: Pocket-lint is claiming that its sources have said that October 27th will not be the date for the Nexus Prime/ICS event. There may be a Samsung event that day, but Pocket-lint is certain it won't be the rescheduled UNPACKED event. Of course, no one is releasing sources, so at this point it's unconfirmed rumors on from both Pocket-lint and The Next Web. TNW has not changed its story.