Nexus Player passes through FCC, but preorders still suspended
4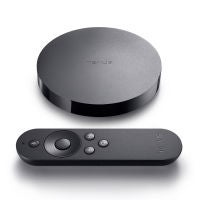 We had known from Google I/O earlier this year that
Android TV
was on the way to replace Google TV, and reboot Google's attempts at getting Android on your big screen. We were even able to assume that there would be a major gaming component to the platform, because of Google's purchase of
Green Throttle
. However, it wasn't until the surprise announcement of the Nexus Player last week that we knew there was hardware ready to go.
The Nexus Player was a surprise announcement, but the bigger surprise might have been that the device was up for preorder for less than a day before being pulled, because the device hadn't yet passed through FCC certification. It is illegal for retailers to sell any Wi-Fi enabled device without FCC approval, even if it is a preorder. Luckily, it looks like Google can get back on track, because the FCC posted the Nexus Player approval today.
As of this writing, Google had not restored preorders for the Nexus Player on the Google Play Store, but we assume that the device should be back on sale by tomorrow at the latest. The Nexus Player will cost $100, and it comes with a remote control. The game controller will cost an extra $40, if you're interested in that.