Nexus 9 disappears from the Google Store; new tablet coming for Google I/O?
10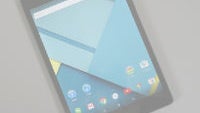 The Nexus 9 was a pretty solid tablet that never really caught on with users. It's hard to say if that was because users are just souring on the idea of tablets overall (which has been true in the tablet sales numbers recently) or some other reason. HTC and Google have been putting the tablet on great deals since Black Friday and now we seem to know why: the tablet is gone from the Google Store.
This was a sudden move too. Usually when a device is going away, we see the shipping times slowly get longer and then get a "product unavailable" notice from the store. This time, the listing was pulled without warning today and the old link for the product page now just redirects to the Google Store homepage. In fact, when you click on the "Tablets" link on the Google Store, it goes straight to the listing for the Pixel C. The Nexus 9 tablet is still available directly from HTC (except the 16GB white variant which is out of stock).
Now, the question is what happens next. The Pixel C is obviously still around, so it's not like there's no option for a Google tablet. But, this certainly brings up the possibility that there may be a new Nexus tablet on the way. There have been some rumors of a 7-inch
Nexus tablet coming from Huawei
, and it may be announced as soon as Google I/O next month. We'll have to wait and see.