Nexus 8 rumors debunked again, the V510 is a Google Play Edition LG G Pad 8.3
10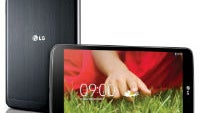 There have been a
few
leaks
of an 8.3-inch tablet by LG that many have been hoping would turn out to be a new Nexus 8, but those hopes appear to have been in vain. New information has come directly from LG itself that seem to indicate that the tablet we've seen (model
LG-V510
) is not a new Nexus device, but the next best thing: a Google Play Edition of the
LG G Pad 8.3
.
The new information comes from some open source files that LG has released on its website. If you were to unpack the files, you would find that they are clearly labeled as "LG-V510(G-Pad 8.3 Google Play Edition)". As we saw earlier today, the device is not carrying the Nexus branding, just the LG branding, which is what you would expect from a Google Play Edition device.
This would make the LG G Pad 8.3 the very first Google Play Edition tablet, joining the two available phones - the Samsung Galaxy S4 and the HTC One - already in the Google Play Edition roster. It seems safe enough to assume that just like the phones, the G Pad 8.3 GPE will have the same specs as the original, which would mean a 1920x1200 resolution 8.3-inch display, a Snapdragon 600, 2GB of RAM, 16GB of storage, a 5MP rear camera, and 1.3MP front camera. Given that it would be a Google Play Edition device, we would also hope that it would be running Android 4.4 at launch.
No word on availability or pricing yet.