Tweet news: LG-V510 tipped to be a Nexus device
5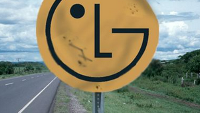 A tweet sent out by serial leaker evleaks reveals some very interesting information. According to the tweet, the mysterious LG-V510 is indeed a Nexus device. If that model number rings some bells in your head, it should. We first heard about this unit
when it received its Bluetooth Certification in October
. With the
LG G Pad 8.3
proudly wearing the model number of LG-V500, it was believed that the LG-V510 could be the oft-rumored Nexus 8.
That dream seemed to be quashed earlier this month by
the leak of a purported LG Service Manual for the LG-V510
. The manual allegedly revealed that the device was an 8.3 inch tablet with resolution of 1200 x 1920 with 2GB of RAM. The back and front cameras weighed in at 5MP and 1.3MP with a 4600mAh battery inside. With the 8.3 inch screen and no mention of the Nexus brand anywhere, this was all shaping up to be another variant of the LG G Pad 8.3, perhaps an LTE enabled model.
Now that the usually reliable evleaks has received a tip that the LG-V510 is a Nexus model, we are right back to square one which means it could be the Nexus 8. Considering that such a slate would naturally be a rival to the 7.9 inch
Apple iPad with Retina display
, if this really is the Nexus 8, we'd expect to see some quick action on Google's part with only two weeks left to shop for Christmas.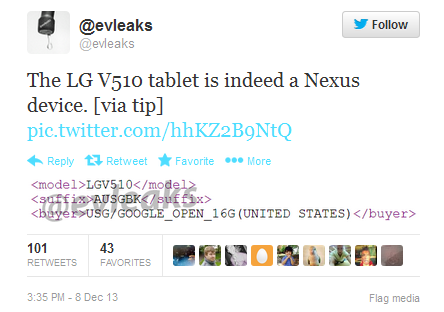 Is the LG-V510 a Nexus device? This tweet from evleaks votes in the affirmative
source:
@evleaks