Nexus 7 beats iPad mini, becomes Japan's most popular tablet
37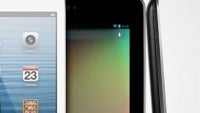 Oh, Japan! Land of Picachu, Yu-Gi-Oh, and
weird
,
weird things
. As an exception this time, news about Japan is actually not weird. Not that weird at least.
Right to it, the
Nexus 7 has overtaken the iPad mini as the best selling tablet in Japan
over the Holiday season. They are close, but the Nexus 7 beats it with a few percentage points.
Market research firm BCN actually surveyed 2,400 retail stores in the Land of the Rising Sun and found the
Nexus 7
share was 44.4% of all tablet sales, while the
iPad mini
accounted for 40.1%. The difference is 4.3 percentage points, and the two obviously leave almost no space for other tablets.
The reason for this is obviously price. The Nexus 7 costs 19,800 yen ($221) while the iPad mini starts at the much higher 28,888 yen ($322).
One thing to take into account, though - Japan is a very tiny market. Overall, sales of tablets in the whole of 2012 stood at merely 3.6 million tablets.
source:
BGR
Recommended Stories