Only in Japan: a chocolate phone for Valentine's day
11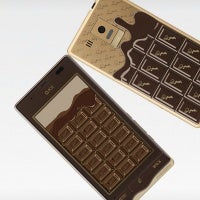 Everything is possible in Japan
, and when time comes around Valentine's day,
everything
is pushed further - this time it's the limited edition chocolate-themed Q-Pot.Phone SH-04D arriving on NTT DoCoMo. A little special something you might or rather might not want to get for your significant other.
The phone is made in cooperation with Sharp and Q-Pot, known for giving a chocolate taste and feel to everything that falls in sight from jewelry to bags.
This time, with the handset it has added a
"three-dimensional melting chocolate block"
on the back, and a special skin on top of Gingerbread giving the illusion of chocolate slowly oozing on the screen. Otherwise, it's not too degrading hardware-wise: you get a 3.7-inch qHD display, an 8-megapixel camera and a relatively thin, 12.3mm profile.
The chocolate phone is gearing up for launch on Valentine's Day, in a run of 50,000 units. Ladies (and probably some very, very bold guys), your say: yay or nay?