Nexus 6 vs Nexus 5: in-depth specs comparison
49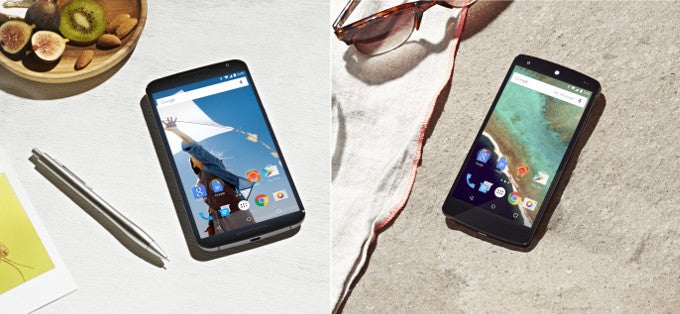 We're tempted to say that with the
Nexus 6
, Google is going back to the line's roots -- a pure Android handset with flagship specs and at flagship prices. That's right, for those of you who either don't remember or were altogether unaware, the Nexus line wasn't always sold at as dirt-cheap prices as the Nexus 4 and 5. But with the Motorola-built Nexus 6, Google isn't just putting distance between itself and that particular pricing strategy -- it's also going down a yet unexplored path, by building the first Nexus phablet.
That's quite a bit to take in, but the good news is this: Most of us will have an easier time choosing between the Nexus 6 and its predecessor, the Nexus 5, as many either completely shun phablets, or are too price-conscious to stomach the hike in price from $349 to $649. So what does that extra $300 get you on top of what's available with the
Nexus 5
, and should you consider picking up the minty-fresh Nexus 6? Let's find out.
Design
If you were hoping for something a tad more unique in terms of the Nexus 6's design, prepare for disappointment. That's not to say that the phablet looks generic, but it does inherit its design language from Motorola's other flagship phone, the
Moto X 2014
, and that will likely bother some (not least because its design wasn't exactly a universal hit). So similar are the two devices, actually, that the only difference is the more centered placement of the power and volume keys on the Nexus 6, and the fact that the second front-facing speaker is functional, providing stereo sound.
In comparison, the Nexus 5 has its own design that it shares with nobody else. It's also less-aggressively rounded, and that, too, distinguishes it from the Nexus 6. Also different are the two devices' rear shells -- with the N5 we've got a grippy, rubberized back, while the N6 sticks to polycarbonate. Where the older Nexus device falls behind is the materials used with the profile -- its plastic frame is no match for the aluminum trim the Nexus 6 has going on -- and the fact that, unlike the latest Nexus, it's not water
resistant.
But perhaps the most significant difference between the Nexus 5 and Nexus 6 is, of course, physical footprint. At 5.43 x 2.72 x 0.34 inches (137.84 x 69.17 x 8.59 mm) and 4.59 oz (130 g), the Nexus 5 is shorter, narrower, thinner, and lighter than the Nexus 6 (6.27 x 3.27 x 0.40 inches (159.26 x 82.98 x 10.06 mm) and 6.49 oz (184 g)). That's quite a bit to swallow for those of us who aren't necessarily as enamored with the phablet form factor.
Display
According to the last paragraph, the 5.96-inch display of the Nexus 6 can be considered to be a disadvantage, but it will also be seen as quite the asset by some. But size is only one of the many differences between the N6's and N5's screens.
To start off, the pixel count has shot up with the Nexus 6 to a super-crisp resolution of 1440 x 2560, or Quad HD. This works out to an excellent density of 493 pixels per inch. In comparison, the Nexus 5's much smaller 5-inch display has a standard flagship resolution of 1080 x 1920, or 441 pixels per inch.
This time around Google is also going with an AMOLED panel, while the older Nexus' screen is of an IPS make. We've not yet had the opportunity to get cracking with the former, so we can only guess as to its qualities, but if the Moto X is any indication, then we'll be looking at overstated hues that do not represent the color spectrum we witness with our eyes very well. At the same time, however, it could be the case that Google will seek to replicate the success of the Nexus 5's screen, which is still among the best-calibrated on the planet.
Interface
The very reasoning behind the Nexus line's existence is to push the Android agenda -- the real Android agenda. This means that Nexus devices come with a stock version of the operating system, unencumbered by a manufacturer skin. This last part is especially important, as it provides the line with one of its most attractive qualities -- quick updates to whatever is the newest Android version. And, sure enough, you can expect the latest update in Android 5.0 Lollipop on both devices -- the Nexus 6 will ship out with it loaded out-of-the-box, while the Nexus 5 should get the update in the next month tops.
So what's new in Lollipop? Quite a few things, actually, but we obviously have to first address the design revamp, courtesy of Google's new "Material Design" mantra. This new philosophy dictates flatter and far more colorful visuals, with primary and secondary colors making a decisive appearance throughout the UI, but mostly in the essential, built-in apps, most all of which have been re-skinned. Another major change change from a design standpoint are transitions and feedback when you perform actions, both of which are now richly animated.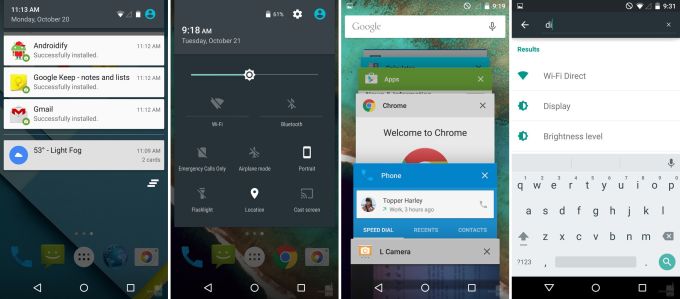 Also different in Lollipop is the lockscreen -- it now offers a shortcut to the dialer as well as the camera, and notifications are fed right to it and can be actioned from there. Another major change comes in the form of the updated software navigation keys, which were changed to a triangle (for back), a circle (for home), and a square (for recent apps). Speaking of recent apps, that menu has also been redesigned, and instead of getting a large snapshot for each running app, you now have all of them stacked on top of each other. This makes for a more stylish representation, but also one that makes it harder to get as much at-a-glance information as before.
Other standout features and improvements in Lollipop include a dedicated battery power saving mode, the ability to create several user profiles, and the addition of an interruptions filter, built right into the volume slider. That last feature works a bit like a Do Not Disturb mode, filtering out non-priority sounds (like notifications, but not alarms, for example).
Processor and memory
Getting stellar performance out of stock Android is usually a much easier task when compared with manufacturer-skinned versions of it, but when you've got to push as many pixels as there are in a Quad HD display, it makes sense to take no chances. To that end, the Nexus 6 has been endowed with the latest flagship chipset from Qualcomm -- the Snapdragon 805. We're talking a quad-core processor, with four Krait 450 cores, capable of cranking up their clock frequency to up to 2.7GHz should the need arise. The Adreno 420 GPU has also been improved over the Adreno 330 GPU available with the Nexus 5's quad-core, 2.3GHz Snapdragon 800, and offers performance improvements of up to 40%, all the while consuming up to 20% less power, according to Qualcomm. The newer GPU also benefits from an expanded feature set, which now includes support for geometry shaders and hardware tessellation (see image for a visual example).

As for built-in memory, the Nexus 6 offers the generous 3GB of LPDDR3 RAM, while you get 'just' 2GB of the same with the Nexus 5. In terms of native storage, the most basic model of the N6 comes with 32GB, while the higher-end option will net you 64GB. With the Nexus, you have slightly less freedom in this regard -- 16GB or 32GB. Sadly, neither of the two devices offers storage expansion through a microSD card.
Camera
Both the Nexus 6 and Nexus 5 have their camera sensors stabilized by an OIS gizmo, but with the former, Google is finally making the move to a 13-megapixel snapper -- something that it seemed reluctant to do with the latter when it introduced it in 2013, which is why it ended up with an 8-megapixel shooter. The Nexus 6 also has the advantage of a larger, 1/3.06'' Sony Exmor RS IMX214 stacked sensor, a wider, f/2.0 lens, and a dual LED ring flash. In comparison, the Nexus 5's sensor is smaller, at 1/3.2'', its aperture is less impressive, at f/2.4, and there is nothing fancy going on with its single LED light. As for their respective selfie cameras, we're mostly talking about a difference in resolutions -- 2MP and 1.2MP, respectively -- as both are still stuck with tops 720p video recording.
As for the software features available with both devices, we're looking at an identical set, owing to the fact that both phones make use of the default Google Camera app. With it, you get perks like HDR+, both standard and 360-degree panoramas, and even Lens Blur, which creates a fake bokeh effect with your photos.
Battery life
Battery life with the Nexus 5 is pretty average on the whole -- it clocked just 4 hours and 50 minutes on our custom battery life test -- so you'll likely need to charge it every night. This is mostly owed to the fact that Google and LG were pretty conservative with the battery they embedded inside the N5's body -- just 2,300 mAh. The Nexus 6, however might have something else going for it entirely, for this time around we're looking at a generous, 3,220 mAh unit, which worked a small miracle at least in the case of the Samsung Galaxy Note 4, whose battery has the exact same capacity, while the hardware is also identical -- a Snapdragon 805 chip and a power-hungry Quad HD display. To put that in numbers,
the Note 4 managed 8 hours and 43 minutes on our test, which pretty impressive for a QHD phone.
Unfortunately, it's still too early to tell if the Nexus 6 will fare as excellently as the Note 4, but it's probably a safe bet that it'll provide you with a better battery life overall. In any case, it's important to also note that the Nexus 5 and Nexus 6 both have support for Qi wireless charging, but the Nexus 6 pulls further ahead thanks to its Turbo Charger, which Motorola promises will quickly restore charge on the phablet, so long as the battery is at fairly low capacity.
Expectations
From what we can tell so far, there are two reasons you might be completely in the right to skip over the Nexus 6 and go for its predecessor -- a smaller budget, and a distaste for extra-large phablets. Indeed, the Nexus 5 can be had for nearly half the asking price of its successor, and for that kind of money, you're definitely getting your every penny's worth -- perhaps even more than that. What's more, LG did good with the amount of bezels on the Nexus 5, and that makes it pretty compact overall -- it's well-suited to be carried in your pocket and operated with just one hand. And while the Nexus 5's aging hardware might be a discouraging factor for some, we do have to point out that, even a year later, we're yet to run into any performance issues with it.
But the Nexus 6 isn't exactly an unattractive purchase, either. It's still a tad cheaper than most competing flagship phones from established brands, and we expect its camera and battery life to offer at least a moderate improvement over the Nexus 5's. What's more, for those of us who actually enjoy phablets, but loathe manufacturers' heavy custom Android skins, the Nexus 6 is essentially uncontested at this point.