Nexus 5 vs Nokia Lumia 1020 low-light camera comparison
51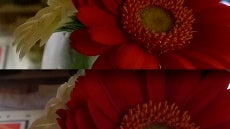 Google's
Nexus 5
sports an 8 MP optically stabilized sensor with f/2.4 aperture and 1.4 micron pixels. It's been pitted against Nokia's powerhouse of a cameraphone - the
Lumia 1020
- in low-light scenarios where the OIS tech present on both handset would give them an advantage against regular non-stabilized phone cameras.
As you can see in the shots below, where first is the test image, then there are crops from the same cut from the Lumia 1020 (on top) and Nexus 5, Google's phone holds up fine against the huge sensor and superior OIS suspension of the 1020.
Pics from it are, naturally, noisier and not as detailed as from the 1020, but they seem to be as good as the ones from the
LG G2
, which
we already pegged in our camera comparisons
as one of the best Android cameras out there. Regardless, the verdict in this quick comparison unsurprisingly favors the 1020:
Even without touching the PureView zooming or the Xenon flash, both unique selling points for the Nokia Lumia 1020, it's clear that basic 'as is' photos are better coloured and with less noise and more detail, when compared to the results from the Google Nexus 5. The 1020's huge sensor, plus the oversampling system, is the main reason for this, of course, since the Nexus 5 has a typical 1/3" class sensor.