Nexus 5 to come as Nexus 4 (2013) like Google did with Nexus 7, here are the arguments
32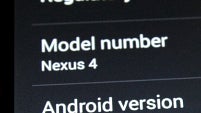 Some intriguing reverse engineering has been done further on the
leaked early build of Android 4.4 KitKat
running on an alleged
Nexus 5
prototype. The thing is that we keep calling it the Nexus 5, assuming that's only logical after
Nexus 4
last year.
The leak's Italian sources, however, are slipping the idea that Google might actually name it Nexus 4 (2013), like it did with the
Nexus 7 (2013)
tablet this year, and could do with the
leaked Nexus 10 tablet
as well. Their arguments are numerous and sound rather plausible at this stage.
First off, the phone itself says Nexus 4 in the settings, but its keys, frame, display, and other hints aren't of Google's hit phone. There's no faux chrome rim around the sides, so some suggested this is the
Galaxy Nexus
. The screen's black, however, is not completely dark, indicating an LCD display, and looks way more defined than the AMOLED one on the Galaxy Nexus. The front camera on the left and the earpiece grill on the right jibe with the positions
we saw on the leaked photos
of what we thought will be called Nexus 5.
The baseband version listed on the phone is an earlier one than what we have now on the Nexus 4, with LTE enabled, whereas
Google has it blocked on last year's device
. Moreover, the build is listed as "hammerhead", whereas the internal name of the Nexus 4 in that department is "mako". Finally, in the interface part you can see that the phone's gallery and camera apps are different than what we have on the Nexus 4, while the app drawer has 5x4 instead of 5x5 grid.
All in all, the conclusion from this rather different, yet still named Nexus 4 device the sources have, is that Google might save the Nexus 5 moniker for next year's big Android 5 edition milestone, and simply ship this year's version as Nexus 4 (2013) to go with Android 4.4 KitKat. What do you think - logical explanation or a stretch derived from a prototype?