Nexus 5 render surfaces, teased by case-maker Spigen
25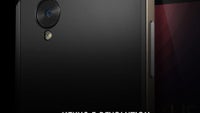 The
Nexus 5
is about to arrive soon, but while we still don't know the official release date, we are constantly bombarded with an onslaught of rumors, leaks and images. This one is particularly juice - it's a high-res render from case-maker Spigen that shows the Nexus 5 in all of its glory.
You get to see the large camera with single LED flash, the 3.5mm headset jack on top, the volume rocker. All things we have seen before, and by now you should probably know everything about the Nexus 5 - its service manual has leaked out showing it's got an 8-megapixel camera supporting optical image stabilization. The handset is also expected to feature the latest Snapdragon 800 chip with 2GB of RAM and Adreno 330 graphics, pretty much top shelf specs right now.
Its key feature, though, should be its low price. Google is expected to start selling the Nexus 5 at $300 off contract, a price that's half that of flagships like the iPhone 5s or Galaxy Note 3, selling for over $650. "Where will you be when the revolution begins?", Spigen tweeted along with the image. If true, maintaining that low price would indeed be a small revolution, don't you think?
source:
SpigenWorld