Nexus 5 box and white model appear in pics
39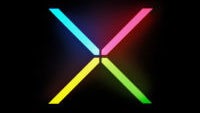 Yesterday, when we saw the Nexus 5
pop up briefly
on the Google Play Store, we noted that the URL for the page specifically listed the device as being "black". The logical conclusion from this was that there would be another color available for Google's next flagship phone, and that color is most often white. Today, we're seeing some evidence that may be exactly what's in store.
Some pictures have leaked of the retail packaging for the Nexus 5 and it shows the device with the black front plate, but a white back, which is a style that Google has used before. Otherwise, there isn't too much interesting to note about the packaging. It most certainly isn't the U.S. packaging as it has a bunch of logos and things that wouldn't be on boxes here. Or, rather, we should say that you wouldn't normally see the Bluetooth tag so prominently displayed on U.S. packaging.
We're still waiting for official word of the device. But, if the "accidental" posting yesterday is to be believed, the 16GB model should start at $349.