Nexus 4 now listed as "Temporarily Out of Stock" on Google Play
21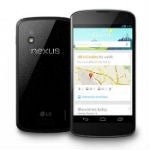 Over the past few days, we've seen the Nexus 4 showing up on a couple of different online store shelves.
T-Mobile
finally got Google's flagship phone in stock, then
Best Buy
also began reporting the smartphone in stock. The Google Play Store hasn't yet flipped the switch on the Nexus 4, but it seems to have inched closer by changing the listing to "Temporarily Out of Stock".
The Nexus 4 product page on Google Play has been showing the "Sold Out" sign for over a month now, but tonight the possibilities got a bit brighter if you've been looking to purchase a Nexus 4. We can't say what "Temporarily" may mean exactly, but it seems likely that the Nexus 4 will be available on the Play Store soon, especially if other outlets are getting the device.
The Nexus 4 has been plagued by supply shortages, and it seems that it may have been caused by Google's relative lack of experience selling hardware. LG can obviously build hardware to meet demand, as it showed with solid sales numbers for the Optimus G (essentially the device the Nexus 4 was based on), and LG said that
it just made what Google said
to make. So, it seems as though Google severely underestimated the demand it would generate with a $299 unlocked smartphone.