Nexus 10 status changes to "coming soon" in Google Play
10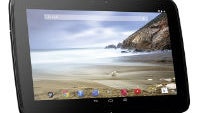 There have been quite a few rumors around the Google Nexus 10, because many analysts and consumers have been expecting/hoping a new version of the tablet would be on the way, but it doesn't seem as though Google is listening to that plan. The
Nexus 10 disappeared
from the Google Play Store back in October and hasn't been heard from since, until now.
There is still no definitive word on what to expect, but the Google Play listing for the Nexus 10 has finally changed from "out of inventory" to "coming soon". There's no real way to know when the tablet will be back on sale, but it does seem to indicate that there may not be a new version of the Nexus 10 coming out soon. Nothing else on the page would even indicate that there is a refreshed version of the Nexus 10 coming. It looks to be the same tablet that we all know.
It's not out of the realm of possibility that Google would release a completely new Nexus 10 soon; but, at the same time, we can't discount the possibility that this change will end up meaning nothing at all. At the very least, we'll be keeping an eye on the Nexus 10 listing, because the best case scenario is that we'll be getting a new Nexus 10.