Nexus 10 specs momentarily revealed on the Play Store and then taken down?
60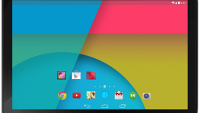 UPDATE: After a more extensive research, we believe that these are likely fake. This is not simply because the icons on the Nexus 10 2013 were obviously added later -- this could have been done for illustrative purposes anyway. It's because, after delving deep into our tips database, we concluded that this particular tipster has a track record of sending content of dubious authenticity.
There's really no denying thatGoogle has managed to conjure quite the hype storm in the Nexus 5'sand the upcoming Android 4.4 KitKat's immediate areas. What's more,we're very likely entering the peak, as all signs point to aninevitable release, likely very soon. In fact, thelatest rumor, courtesy of infamous @evleaks, points towards aNovember 1st launch, not to mention that this time around, we couldsee a white Nexus 5 launch from the very onset.
As is plainly obvious to those thathave been tracking the progress on Google's latest workings, hardwareor otherwise, the new Nexus 10 tablet that is alsoexpected to see the day of light sooner rather than later, hasreceived a disproportionally low amount of attention. Of course, smartphoneshave proven to be the more interesting bracket for consumers, butnevertheless, the Nexus 10 2013 is still expected as one of the hottesttablets to come out in 2013. Fortunately, while details up until thispoint have been pretty scarce, it would appear that we've finallygotten our first break, as a reader of ours has sent us a screenshotsthat show both the Nexus 5 and new Nexus 10 listed on Google Play.More interestingly, perhaps, we're treated to a bunch of seeminglyconfirmed specs, as far as the new Nexus slate is concerned. Theseinclude an identical a "10.055'' diagonal at 2560x1600 pixelresolution for 300 ppi", plus Gorilla Glass 3 on top.Unsurprisingly, the Nexus 10 2013 will also follow the Nexus 7 2013 with aSnapdragon 800 chipset, though it's interesting to note that thespecs list 3GB of RAM. The photographic capabilities of the new Nexus10 also appear to have received a boost, as it will apparently sporta 8MP/2.1MP rear and front shooters, respectively. The battery hasalso seen an upgrade and it now has a capacity of 9500 (up from9000mAh), and the Nexus 10 2013 is, overall, lighter (584g), more compact(258.9x172.6mm) and thinner (7.9mm) compared to its rather chunkypredecessor. Seeing as this is a Nexus device, Android 4.4 KitKathas, of course, been listed as present out of the box. It's probablyworth noting that the thumbnail that is shown on the Play Store imagebelow appears to be identical to another render we were recentlytipped off with.
Beforeyou go, you'll be probably best served to take these with a spoonful ofsalt, as we may be witnessing an attempt at a hoax here.