Next iPhone likely won't support LTE or WiMAX
12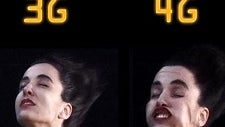 This is probably the
last iPhone 5 rumor
you'll ever see (hopefully) and it seems that it comes only to tone down expectations a bit - the new iPhone
won't support LTE or WiMAX
, according to a Wall Street Journal report citing
"people familiar with the company's plans."
The new handset will only support EV-DO and HSPA+ speeds, which go for 4G as well, but are a far cry from the speeds offered by LTE and WiMAX. The Journal doesn't go into much detail about what could be the cause - but our guess is battery life was among the biggest concerns as well as design restrictions.
Sprint is now widely believed to offer the next-gen iPhone along with Verizon and AT&T, but here's where rumors take two paths - it could turn out that the iPhone 5 is a Sprint exclusive (unlikely) or that the iPhone 5 arrives a month later on the Now Network. Tune in at
10AM PST | 12PM CST | 1PM EST | 6PM GMT
when all details will finally be revealed.