Next Google Nexus Phone to be enterprise centric with physical QWERTY?
This article contains unofficial information.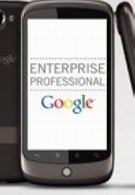 The Nexus One has been birthed and now eyes turn toward Google to see what the company will do for an encore. According to Reuters, no less a source than Andy Rubin says that the next model (the Nexus Two?) will be made for business users and will feature a physical QWERTY keyboard. Such a device would strike fear into the heart of BlackBerry maker RIM whose handsets concentrate on the enterprise user and most include a physical QWERTY keyboard. Perhaps it is Rubin and Google's intention to go after the competition one by one with the Nexus One aimed at the iPhone and the BlackBerry the target of the second device. Will the Nexus Two be called the Nexus Two? Will it be manufactured by HTC, the Taiwanese company that makes the Nexus One? When will it launch and what will it cost? All of these questions will be answered in due time. In fact, you should relax and enjoy the Nexus One and when more info comes out, we will pass it on to you.
HTC Nexus One Specifications
|
Hands-on
source:
Reuters
via
UnwiredView