News anchor mistakes pile of paper for an Apple iPad on air
21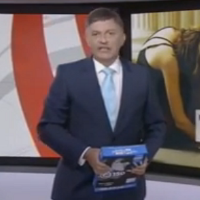 We've seen people pay serious money for what they thought was an Apple iPad only to find that
what they bought was a mirror
or
a block of wood
or even
a number of wrapped up note pads
. But those buyers were purchasing a sealed box that they thought would contain an iPad when opened. For BBC news anchor Simon McCoy, everything was out in the open when he reached to grab an Apple iPad that he uses as a prop while reading the news.
Unfortunately for McCoy, what he thought was an Apple iPad was actually a stack of printing paper. We're not sure of the exact moment when the 51 year old veteran broadcaster realized that he was holding paper in his hand instead of his tablet, but McCoy never made a move to put down the paper and pick up the iPad. Luckily for him, the tablet is only a prop and isn't really used in the presentation of the news.
"This morning as Simon McCoy was preparing to introduce this story, instead of picking up his tablet to hold as he went to air, he mistakenly picked up a ream of paper that was sitting next to it. In the rush of live news, he didn't have an opportunity to swap the items, so simply went with it."
-BBC statement
Viewers sent out tweets questioning why McCoy was hoilding printing paper instead his tablet. A BBC spokesman made a statement explaining the mistake and all was right with the world again. Well, except for a number of viewers who couldn't understand why the new iOS 7 update wouldn't appear on their own stack of printing paper.
source:
YouTube
via
TheGuardian
,
Gizmodo