New video shows Google Now on the Nexus 7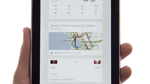 We've already seen 5 other "how-to" videos from Google to ease new users into life with their new Nexus 7 tablet. First, there was the
general startup video
, how to set up your homescreen, and overviews of
Google Apps
, the
Play Store
, and
Google+ Hangouts
. The newest video shows off a feature that we think Google should spend more time marketing: Google Now.
We've talked before about how much we like the
idea behind Google Now
, and its plan to bring intelligent push to the masses. There are a lot of products and features that come together to
make Google Now
, and the platform can only grow from here. Google Now only has a few features at this point, but they are all very useful.
The video shows off the general features that one would expect to see right away like weather, sports scores, and various maps and navigation cards. The video mentions cards for local places, and such, but doesn't actually show them in action. Interestingly, the video doesn't mention the voice command/voice search options, so it seems that Google may not consider Voice Actions as part of Google Now (which makes sense), meaning the never-ending comparisons of Google Now and Siri are of no interest to Google at least.