Google shows off Hangouts on Nexus 7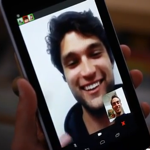 After the first three videos, we weren't sure what Google would have in store for more of the "how-to" videos, but it seems that the killer feature of Google+ is up next: Hangouts. If you were to check around how Google markets Google+, Hangouts would probably come out with about 95% of the marketing effort, so it's no surprise that this is the only thing we've seen about Google+ in these Nexus 7 videos.
The video is pretty straightforward showing the zombie hand holding the Nexus 7 while an actual human hand navigates into the Google+ app, and starts up a Hangout with one of his circles. It's definitely a good way to use the tablet. There is a reason why Google was sure to include a front-facing camera on the device, but decided against adding a rear-facing camera.
How many out there use Google+? Do you often join Hangouts? If so, would you join or start a Hangout on your tablet?