Google video teaches you that Google has Apps on the Nexus 7
2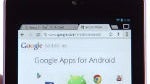 Last time, Google wanted to give you the
basics about using your Nexus 7
tablet, and now, just in case you didn't realize that the Nexus 7 tablet that you just bought is a Google product, Google has a new video to let you know all about the Google Apps available on your new device. Maybe Google thinks that people are used to the experience found on the Kindle Fire or Nook tablets, and Google Apps are definitely not a part of those.
Whatever the reasoning, Google has a short video that will walk you through some of the Google Apps available on the Nexus 7. The video covers Google Earth, Gmail, Maps, YouTube, and the Chrome browser. Each app only gets a short time, so this is really just a primer for newbies, but it's a good video nonetheless. And, even though the video doesn't go into it, you can definitely see that the Google Apps folder on the Nexus also includes Google+, Currents, and Talk.
We're going to assume that Google has at least one more of these videos coming soon which will be a walkthrough of the Google Play Store itself. That would round out the beginners guide. After that, it would be a matter of whether or not Google wants to get into more in-depth how-to videos for Android.