As expected, new Nexus 7 video shows off Google Play Store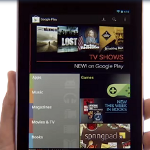 After seeing the new how-to videos that Google has released for the Nexus 7, first the
general how-to
about getting started with your new tablet, then the how-to about using
various Google Apps
, we knew that there would be another video coming as a how-to for the Google Play Store. Now, we have that video, and it is pretty much what you'd expect.
The video goes through the content available in the Play Store and how to access it from various apps on your Nexus 7. The video highlights new content like magazines, specifically going into the new Google Magazines app itself, and really just mentions the other content available. Of course, there is also the standard message that all of your content will be "instantly available" to your other devices, and Google even points people towards the Play Store website as a place to access that content. We think Google may have to make the links to personal content ("My Books", "My Videos", etc) on the Play Store website more prominent, but it's always good to show people how much the website has to offer.
The video also finds a bit of time to highlight the new widgets that Google has created in Jelly Bean, specifically the new Play Store recommendation widget which helps you find new content that you may want to purchase in the Play Store. Definitely a good amount of info in a video that's just 1:14 long.