Google produced video shows new owners how to use Google Nexus 7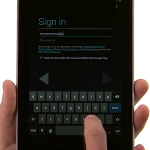 It was your birthday and someone just handed you a gift. Curious to know what was in the box you felt under the gift wrapping, you tear away at the paper only to find a colorful box that reads "Google Nexus 7". You thought to yourself how familiar that name sounded when you remembered hearing something about a new phone, tablet or calculator that just was introduced with that name. You vaguely remember hearing something about a
tablet that ran on jelly beans
. Was that instead of a battery?
The video, called "Getting Started"
covers everything
from turning on the tablet to setting up a Google account to receiving software updates
.
If you are one of those lucky new Google Nexus 7 owners and are a bit confused, just click on the video below.
source:
Google
via
Phandroid