New plasma display by Panasonic allows four people to draw at same time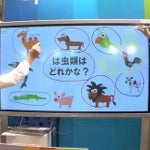 Currently, multi-touch displays can handle no more than two fingers at the same time, but what if you have up to four people who want to use the same device at the same time? Panasonic might have the answer. It has developed a plasma-based touchscreen system
that will register up to 4 touches simultaneously
. There is one caveat which is that a pen has to be used for the input. As a result, Panasonic is marketing this display for devices to be used in schools or for business presentations. At school, this might come in handy as kids love to touch things and with this display, those touches won' register on the screen. And for business use, the pen is perfect for making handwritten notes.
The pen allows you to draw and write in different colors and words you write can be recognized and converted into an easier to read font. The first model is 65 inches with 85 inch and 103 inch screens being developed. To put things in perspective, a 103 inch screen would be like
having an interactive wall in your house
. Might as well put away your money for now as pricing as not been announced. The 65 inch screen will launch in July. By 2015, Panasonic expects demand for these kind of screens to reach 350 million screens by 2015.
source:
DigInfo.tv
via
Geek