New pictures on Galaxy Note 7 reveal dangers and limitations of the iris scanner
35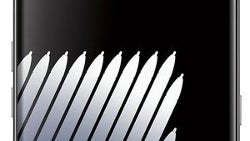 By now, it's next to certain that the
Samsung Galaxy Note 7
will have
an iris scanner
for increased user security. The gizmo will likely work by projecting an infrared beam to the user's eye, then using a camera to read the iris. That's why it would be better and more consistent when working in dark areas or in weird angles.
However, it seems the tech is not without its limitations. A new photo of the Galaxy Note 7's Settings screen for the iris scanner shows a number of warnings from Samsung. For one, it's recommended that iris scans are done at a minimum distance of 8 inches (20 cm) from the user's eyes. To be safe, Samsung suggests using the scanner at 9.8 (25 cm) to 13.8 inches (35 cm) from your face. This is probably due to concerns that the infrared beam could cause harm after regular use at close distances. For that reason, it is also suggested that it shouldn't be allowed for babies or small children to use the iris scanner.
Secondly, Samsung warns that if the user has glasses on, they might want to remove them, as the optics could mess with the iris scanner's work. This is surely going to be an issue for those that need to wear glasses constantly, and we aren't sure whether contact lenses would produce some kind of distortion as well.
All that said, it does seem that the Note 7 would at least be able to read a user's iris quickly and reliably – earlier today, we were treated to
a video
showing it perform an unlock in less than a second.
Were you planning to use the iris scanner as your regular form of unlocking? Does this new information change your stance on it?
source:
GSMCN (Weibo)
via
SamMobile