New photos of BlackBerry 10 L-Series phone show sleek drool-worthy device
40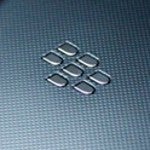 leaked pictures before of the BlackBerry 10 L-Series
, but not like these. A series of photographs taken by someone who knows how to use a camera, reveal sharp and clear photos of the
all-touch BlackBerry 10 handset
. It is unknown if this is the final build, but the texture on the back cover matches perfectly
the picture of the phone on the updated landing page for BlackBerry 10
.
The design looks sleek and there is not a home button in sight. There appears to be a front-facing shooter and NFC technology is embedded into the rear cover. The battery is 1800mAh although BlackBerry has traditionally been able to squeeze more battery life out of its power cells. And the earphone jack is on top.
This is the clearest photos we've seen yet of the BlackBerry handset that is
expected to launch in March, according to a recent report by a brokerage house analyst
. So what is the consensus out there? Does RIM have a phone that will turn heads?
source:
Tinhte
(translated),
BBE
via
BerryReview
BerryReview