New iPhone buyers can get another one for half off at T-Mobile, but there's a twist
9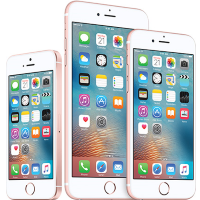 America's one and only magenta-painted carrier has a new offer for iPhone takers! Starting March 31st, anyone that buys a new iPhone or has pre-ordered the new iPhone SE can get another one for half off the price when they add another line. In addition to the brand-new iPhone SE, the offer includes the iPhone 6s and 6s Plus, iPhone 6 and 6 Plus, iPhone 5s, and iPhone 5c. T-Mobile customers with qualifying orders will receive half off the iPhone device via rebate card.
The offer works by buying a qualifying iPhone and getting a second iPhone half off via rebate on a Prepaid MasterCard® card. Customers must add a new line of qualifying postpaid service to their account, and one of the two new devices must be on this new line. New and existing customers are eligible, and any Simple Choice postpaid rate plan will qualify. Customers can get up to 2 rebates per account, and the device which receives a half-off discount is the one with equal or lesser value to the one you've ordered.
The full list of participating locations and other terms you might want to become acquainted with are available in the source link below.
source:
T-Mobile
Also read: