Apple iPhone SE: first weekend online sales estimated at just 3% compared to iPhone 6 launch
62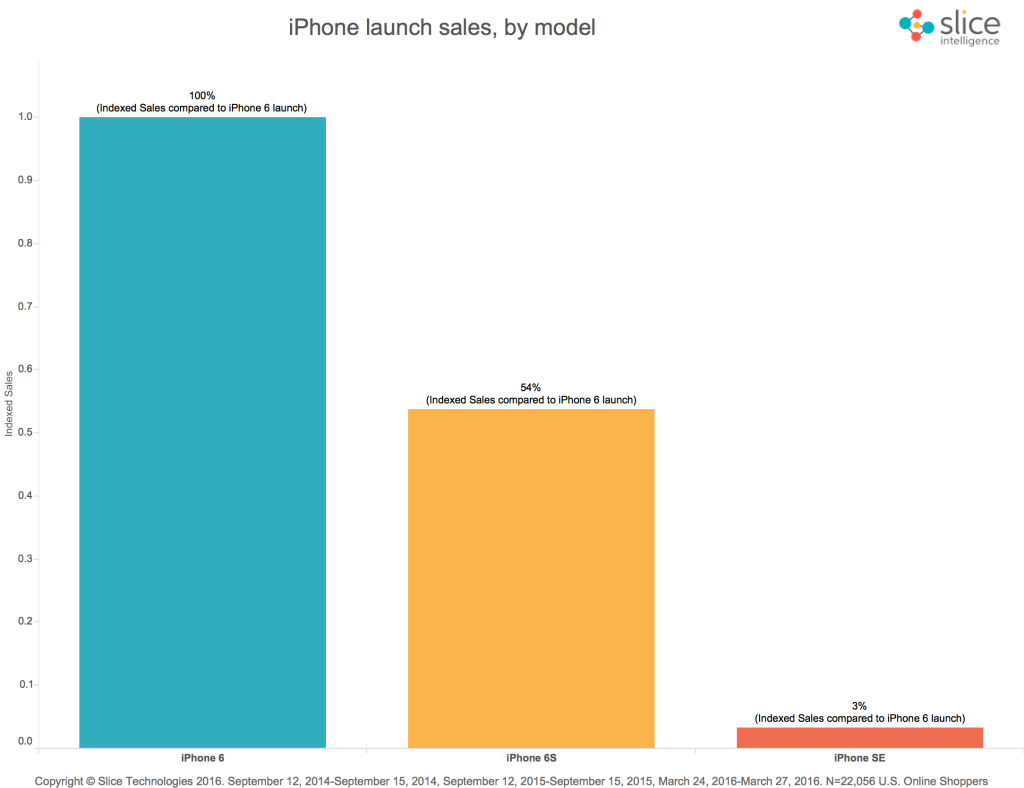 According to a new report from Slice Intelligence, Apple's iPhone SE was not much of an online hit during its first weekend of availability. However, the report argues that the iPhone SE has done a wonderful job of growing the iPhone user base by converting users from the Android camp.
Based on early e-receipt data, Slice Intelligence says that online iPhone SE sales were at just 3% compared to first-weekend iPhone 6 online sales. By comparison, first-weekend online sales of the current-gen iPhone 6s series are estimated at 54% of the iPhone 6 benchmark.
According to the market research firm, just 35% of those who purchased the iPhone SE online this past weekend have purchased an iPhone in the past two years. By comparison, 49% of first-weekend iPhone 6s sales came from customers who upgraded from a previous iPhone.
Looking at the data, it's also interesting to note that 16% of online iPhone SE purchases came from customers who upgraded from an Android smartphone. The same stat stood at 10% when Apple launched the iPhone 6s series last fall.
The report also shares some insight on the profile of the average iPhone SE buyer. In reference to the average iPhone 6S buyer, the iPhone SE buyer is more likely to be man, more likely to fall in the 45-54 demographic, and less likely to have a college degree. For more stats, check out the charts below, or head on over to the full source for the detailed report.
Although this report shows us an early look at how the iPhone SE is performing in terms of sales, the data is unfortunately limited to online sales. Furthermore, it should be noted that the iPhone SE has yet to launch in most emerging markets where the handset is more likely to generate interest.