New iPhone 4 costs $187.51 for parts and materials says iSuppli
This article contains unofficial information.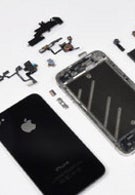 After doing its usual tear down of a new iPhone, analysts at iSuppli estimate that the new iPhone 4 takes $187.51 of parts and materials to make. The company tears down the handset into parts that it can check to gather an idea about the cost of the phone. We are talking about parts and materials only. Things like advertisements, assembly, shipping, patents and licensing do not count. The figure is only a preliminary reading of the 16GB model and a more precise analysis should be out by the end of the week. The figure of $187.51 for the Bill of Materials is slightly less than the $199.00 that AT&T charges for the device assuming a 2 year contract is signed. But don't cry for the Cupertino based firm because at that price, the carrier is subsidizing some of the cost of the phone. Last year, iSuppli figured that the 16GB iPhone 3GS contained parts and materials costing $172.46 and assembly ran $6.50 for a total price to assemble the device at $178.96. An 8GB iPhone 3G back in July of 2008 cost $174.33 for parts, materials and assembly. On the current model, the most expensive part is the display which costs $28.50 followed by a Samsung 16GB Flash memory chip which costs $27. For the complete breakdown, visit the source link.
Apple iPhone 4 Specifications
|
Review
Apple iPhone 3GS Specifications
|
Review
Apple iPhone 3G Specifications
|
Review
source:
iSuppli
via
LATimes