New Trent Travelpak NT400C 4,000 mAh Battery Pack hands-on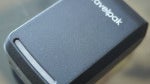 We've handled our fair share of
portable battery packs
, but if there's one thing consistent about all of them, it has to be that charging them requires us to connect their respective power cables to an outlet. In fact, we sometime have to carry along a spare USB wall charger and cable for that, which adds to the amount of things we need to lug around for our travels. Lessening the load, the
New Trent Travelpak 4,000 mAh Battery Pack
employs the snug form factor we dig with its easy to charge process.
Considering that this is packing along a modest
4,000 mAh battery
inside of its body, we really can't complain about its travel friendly size. Honestly folks, there's nothing out of the ordinary with its design, which happens to look like any wall charger out there. On the underside of its carriage sits
two USB ports
that offer simultaneous charging, which is accomplished when the power button on its side is long pressed. However, it's worth mentioning that it wields both
1A and 2.1A ports
respectively to give those beefier devices a sufficient charge. Finally, 4 ambient LED indicator lights turn to tell us how much juice is left.
Still, when it comes to the recharging process for its own internal battery, we really appreciate that it's easily done by uncovering its wall prongs – as opposed to finagling around with other wires and adapters. Plug it into a wall socket, and voila, instant charge! There's nothing more simple than that, right? Well, if this is something that might appeal to you, just know that you'll need to fork out
$44.95
to pick it up. All things told, it might be perceived as being a little bit pricey for the battery capacity, especially considering we've seen
New Trent's other 12,000 mAh battery pack
retailing for $80.
source:
New Trent
More battery packs to check out