myCharge Peak 6000 hands-on
1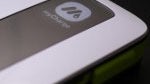 Normally, with most universal battery pack chargers that we've played around with, you typically need to supply yourself the appropriate charging cable in order to juice your device on the go. Of course, it can become frazzling considering that you have to remember to bring along all of your charging cables with you. However, the

myCharge Peak 6000

aims to lessen your load thanks to its ingenious feature of incorporating all the cables you'll possibly ever need to charge your gadgets – and they're all housed within its body!



Having to run around looking for a wall outlet can be challenge all by itself, but with the myCharge Peak 6000, you won't ever have to worry since it's packing a modest

6,000 mAh battery

. Therefore, if you need to charge both a tablet and smartphone simultaneously, this will surely get the job done. If you're not familiar with myCharge, they're actually the same team that provides the battery charging system for PowerBag. Before you head out on the road, just take a quick look at what the myCharge Peal 6000 has to offer. As it stands, it's slated to be released starting on

August 1st for $99.99

.