New Trent iCarrier IMP120D 12,000 mAh Battery Pack hands-on
12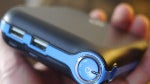 On the road again, but you're far away from any form of civilization? In our modern technological society, a quick visit to the local coffee shop can provide us with an arsenal of conveniences that are within reach – such as Wi-Fi connectivity and an adequate source of power. However, when we're far away from all of that, alone in some remote portion of the globe, power consumption truly begins to be a concern. Lucky for us, there's an assortment of portable battery packs that can keep us going.
Our first time checking out something from its camp, the
New Trent iCarrier IMP120D 12,000 mAh Battery Pack
aims to be the all-in-one solution you'll ever need for all your travels. For starters, it's packing along a monster sized
12,000 mAh battery
inside of its body, which is grossly above average compared to other offerings we've scoped in the past. In terms of design, it definitely tries to splash a hint of modern elements to the mix, as its slick feeling black plastic shell
has a nice contrast
with its blue accents. Still, we kind of get the hint it's still a bit on the conventional side with its design – especially with its straightforward squarish appearance.
Armed with
two full-sized USB ports
(one being 1A, with the other putting out 2.1A), it's nice that we're given simultaneous charging action with the iCarrier, which is mentioned to easily provide charging to most smartphones somewhere around the ballpark of
4 to 6 times
. However, as much as we appreciate the longevity it'll bless our gadgets, the
4 hours of charging time
that's needed to fully top off its internal battery is somewhat of a bummer – so yeah, you'll have to leave it charging for some time. Even more, it relies on a
proprietary charging port
, instead of the usual microUSB, which means that we'll need to remember to carry along its charging cable at all times.
Despite those annoyances, some will value the fact that it's priced competitively at
$76.95
. It might seem like a hefty tally, but previous to this, other 10,000 mAh battery packs we've seen normally hover around the $100 mark.
More battery power packs to check out