Gomadic SunVolt Max Solar Charger hands-on
2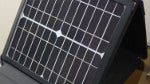 Who doesn't like free, right? We don't think about it all that much, but all our fancy schmancy and prized gadgets all have something in common – they all sip precious power to function! Hardly something we think deeply about on an everyday basis, it's rarely we ever find ourselves without power, but when it happens, we're quick to do whatever it takes to make most of the leftover juice. Well folks, the team over at
Gomadic
has one useful thing that's sure to juice all of your devices thanks to the power of the sun.
If you're a survivalist, you'll surely appreciate the
Gomadic SunVolt Max
portable solar charger that's ready to keep your prized devices juiced. At first, we didn't find anything too special with this weather resistant carrying case, especially when the design is hardly stylish, but regardless of that, the most important thing is that it's packing along a
photovoltaic solar panel
inside. It might look lightweight, but seriously, it's deceptively heavier than it looks. Still, the coolest part about the SunVolt Max is its ability to charge up all of our devices.
Now, the hardest part about the whole process is finding that perfect angle to effectively get the most juice from the sun's rays – and that's on top of the unpredictable weather conditions. However, when everything is spot on, the notion of getting free power is a tantalizing thought that gets us drooling. Rather than connecting our devices directly to the SunVolt Max's various USB tips, it's far more practical to connect it to the
3,400 mAh battery pack
that's sold separately. And with the battery pack, there's a USB port on it that's ready to spread its battery juice to all of our devices.
Yeah, it's wonderful being able to get free energy to charge our smartphones and gadgets with the SunVolt Max, but the whole charging process does take some lengthy time. Regardless of that, the SunVolt Max proves its worth in many ways – even when it's priced at
$129.95
. Some of us might be taken by surprise, but in all honesty, this is free power for your devices, so you really can't go wrong with it.