New Sony Xperia Z3 commercials ask you to demand "great" instead of just "good"
69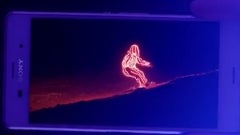 Sony today unleashed a couple of new TV commercials that promote its Xperia Z3 series. Both commercials feature a pretty powerful soundtrack (Nightcall by London Grammar, if you're curious to know), and end with the same "Don't settle for good. Demand great." tagline.
The new ads showcase the fact that Sony's Xperia Z3 smartphones can take "incredible photos even in low light." Moreover, they remind us that the devices are waterproof, offer up to two days of
battery life
, and are the only ones in the world to feature
Remote Play for PlayStation
. Sony's SmartBand Talk also makes an appearance.
Already available in select markets, the
Xperia Z3
,
Z3 Compact
and
Z3 Tablet Compact
have yet to land in the US. However,
Sony will host
a "Demand great" press event on October 9 in New York City, and we expect to hear more about the US availability of the Z3 line on that day. Until then, besides watching the new commercials below, you should also check out our
Xperia Z3 review
and our
Xperia Z3 Compact review
.