New Samsung Gear VR leak shows the virtual goggles' front side and companion app
12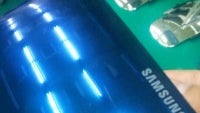 Ten days ago
, we published leaked photos of Samsung's upcoming virtual reality goggles, the Gear VR. It was an interesting showpiece for sure, but it only displayed the back of the alleged contraption. Now, we have these purported photos of the product's front side, complete with reflections from the factory's depressing neon lights. It is said the photos depict an actual production unit - the exact product which will end up on curious customers' heads.
If these photos are the real thing, then the Gear VR doesn't look like anything else on the market. It looks like something Lady GaGa would bring to a show! The front side of these goggles is all mirrors. Some of the units are not painted, while others are painted in classic Samsung blue. We'd be genuinely surprised if the Korean giant released the un-painted version, just because it's so raw and industrial-looking. So for now, we'll assume the Gear VR will come in blue.
Leaked product card and app screenshots spill other interesting details for Samsung's virtual reality appliance. The glasses' model number is SM-R230, and the "Gear VR" name is confirmed once again. Furthermore, the leaked screenshots of the Samsung Gear VR app suggest that the glasses work in "see-through" and "VR world" modes. This means they aren't a piece of multimedia equipment that's supposed to be kept home, but something you can wear out if you feel like Google Glass.
However, the VR app screenshots show two different designs for the glasses. One looks like a scuba mask, and the other resembles sports glasses. We're quite confused what Samsung is doing here.
Additionally, the glasses listen for voice commands. Users can say "Hi, Galaxy!" and spell out the name of the app they want to launch. The voice control is supplemented by a touch pad and a back button on the Gear VR's right side. These are used to "browse items".
If we're lucky enough, the Samsung Gear VR will get a big reveal at this year's IFA Conference in Berlin, alongside the mighty Galaxy Note 4 and possibly a new Gear watch.
source:
cafe.naver.com
via
SamMobile
Recommended Stories