New Microsoft Surface tablets to be announced in June with 7"-9" displays, Intel or Nvidia chipsets
8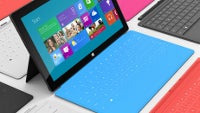 Intel dropped a bombshell today that its Haswell chips will have up to three times the graphics prowess of the current embedded generation, and those are already shipping to manufacturers.
Hot on the heels of this announcement now come reports from the Taiwan supply chain which
confirm that the production of second generation Microsoft Surface tablets in is full bore
for announcement at the Build Developer Conference June 26-28, and it will sport Intel and Nvidia chipsets. While we can only hope that low-power Haswell setups will be used for the Surface Pro 2, or whatever it gets named, since it will mean ARM-like battery life with improved graphics, we are also curious what Nvidia processor will go into an eventual RT 2 version, hoping for a
Tegra 4
.
The other interesting tidbit is that the new Surfaces will feature screens 7"-9" in size,
which we've heard before
, so as Microsoft has an answer to the onslaught of smaller Android and iPad slates that are
taking the tablet world by storm
. The laundry list of suppliers for the other components includes:
Microsoft retained most of its component suppliers from the first-generation models for the second-generation ones with Pegatron Technology staying as the devices' manufacturer. Chassis are supplied by Ju Teng, switching from China-based Chungnam Precision Casing; displays are supplied by Samsung Electronics and LG Display, glass Corning, batteries LG Chem, processors Intel and Nvidia, keyboards Chicony Electronics and Ko Ja (Cayman) and touch panels TPK and Youngfast, the sources noted. However, these component makers have all declined to comment about Surface shipments.
On that last note, Microsoft has apparently ordered components for no more than
a million and a half second generation Surfaces
, as
that's what it sold from the first edition, Pro and RT combined
, so this time it is being more realistic in its sales expectations, though if it gets the price, processors and OS polish right, these shipment projections might undergo a revision.