Is the NVIDIA Tegra 4 faster than the Qualcomm Snapdragon 800?
32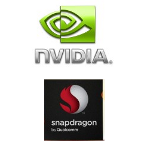 A new report says that the NVIDIA Tegra 4 processor is
faster
than the Qualcomm Snapdragon 800. But because the chips have yet to be built, the report is conjecture and information provided by NVIDIA at MWC was used to determine the speed of the Tegra 4. Meanwhile, to estimate the speed of the Qualcomm Snapdragon 800, a Qualcomm Snapdragon S4 Pro was bumped up in clock speed from 1.7GHz to 2.3GHz. In addition, a 10% performance increase was added to the score because of the Krait 400 core. On the basis of all of this tinkering, the report said that the Tegra 4 beat out the Qualcomm Snapdragon 800
If it all sounds like a guess based on less than solid evidence, well, what else can it be if the chips have not even been produced? And based on a more mathematical based estimate, Qualcomm's new top-line 800 should actually beat out the Tegra 4. Consider that the latter scored scored 16,436 in the general-purpose Quadrant v2 benchmark. The Qualcomm Snapdragon 600 scored 12,417. Taking that score and adjusting it from the 1.7GHz clock speed of the '600' and computing it for the 2.3GHz '800' results in a score of
16,799
without factoring in any improvement to the Krait 400 core.
Not only is it really too close to call, but again, we are even dealing with the actual chips. According to
Microprocessor Report
, the Tegra chips are designed for speed at the cost of high power consumption, while the Qualcomm chips offer power efficiency. This means that in head-to-head competition, the Tegra 4 should beat the Qualcomm Snapdragon 800 in benchmark tests.
source:
MicroprocessorReport
(subscription req'd),
Barron's
via
AndroidAuthority