New IDC numbers shows Fire-assisted Android tablets now make up 40% of the the market
18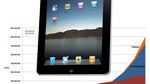 IDC has the numbers in for worldwide tablet sales in Q4 2011, and Apple continues to lead the pack, with the iPad 2 accounting for more than half of all tablets shipped. Android managed to climb to 44.6% of the tablet market, but most of that gain stemmed from the
Kindle Fire
, which runs a forked version of Android. Amazon shipped 4.7 million Kindle Fires, which was worth 16.7% of the market. Samsung is in a distant third place with 5.8% market share.
Apple is seeing tremendous growth in iPad sales, and there's little doubt that the new iPad with its Retina Display and LTE radio will see that continue. Still, the tablet market is
growing more rapidly
than iPad sales, and Apple's market share of 54.7% was a significant drop from the 61.6% of the tablet market Apple commanded in Q3.
Amazon is reported to be selling the Kindle Fire
at a slight loss
, so Apple is claiming the lion's share of the profits from tablet sales, but in some ways these numbers appear eerily similar to the growth of Android phone sales in the beginning of 2010. If Google manages to market a $199
Galaxy Nexus tablet
next quarter, and if NVIDIA is right that we'll see plenty of quad-core tablets in the
sub-$300 price range
by mid-year, we could be looking at a very similar market story, albeit with slightly different players.
In that scenario, Apple would stay head and shoulders above the competition in terms of profitability, but the volume of sales of Android-powered tablets could pass the 50% mark in the second half of 2012. Perhaps Apple's rumored
7.85" iPad
is intended to combat that problem. We expect that Q1 of 2012 will see a bit of an Apple resurgence from new iPad sales, so all eyes will have to be on the second half of the year.
We'll be sure to let you know when we find out!
source:
IDC
via
9to5Google