Google Nexus tablet could affect partner tablet sales
17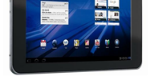 As seems to happen often with reports from DigiTimes, this news sounds completely reasonable, but also completely overblown all at the same time. The new report says that the rumored Google Nexus tablet could have an adverse effect on other Android tablet sales when it is released. This in itself seems perfectly reasonable, because there is a niche audience that would love to see a Nexus tablet and would likely choose it over other options. But, that's just it: a niche audience.
The idea is that the Nexus tablet will likely come loaded with Android 4.1, which will not be available to other manufacturers and will have extra features that make the Nexus tablet more enticing than other Android tablet options. However, some other media outlets have used terms like "cannibalize" and DigiTimes itself tries to assert that the Nexus will cause a "conflict" with other manufacturing partners. This seems completely overblown to us, and also seems like an indication that DigiTimes and others haven't really been paying attention to the Nexus line thus far.
The Nexus line always has a newer version of Android which other manufacturers haven't had time to build into their devices, which always means more features. That's the point of the Nexus line: it shows the future that Google sees for Android. But, that has never caused trouble with other manufacturers, because Nexus devices are essentially developer reference devices. Even the Galaxy Nexus, which has been the most widely popular Nexus device to date has never been accused of "cannibalizing" sales of other devices. Google has always known that the power of its ecosystem is in the diversity of devices, and the Nexus is part of that diversity. We're sure a Nexus tablet may shift a few sales away from other manufacturers, but we doubt it will be significant, especially if the major difference is in software which other devices will get eventually anyway.
source:
DigiTimes