NVIDIA CEO throws Asus under the bus, says tablets could be under $300 soon
18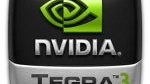 This quote is a strange one that is less and less positive the more you think about it. NVIDIA's CEO told journalists today that he thinks Tegra 3 tablets could drop under $300 within "a couple quarters". At first, this seems like a pretty good thing, because cheaper is better, but if you consider the timeline, it just reinforces that while the Tegra 3 may be the first mobile quad-core CPU on the market, it probably will not be the best.
It's the timeline that's the trouble. The Asus Transformer 2 is coming out very soon, will be powered by a Tegra 3 and will cost $500. NVIDIA CEO Jen-Hsun Huang has just made the bold declaration that within 6 months, a tablet like that will cost under $300. Of course, considering quad-core Snapdragon processors from Qualcomm are due out in early 2012, and TI OMAP and Samsung Exynos quad-cores are also on the way in 2012, it seems very reasonable to expect Tegra 3 devices to drop in price by mid-2012.
That's why we say, at first NVIDIA's statement seems good only at first, because we like the idea of a quad-core tablet for under $300. However, it's certainly likely given the competition in the market. Besides, do you think this comment makes Asus feel too good? Would you run out to buy a Transformer 2 knowing that sub-$300 tablets with similar specs are on the horizon? Ultimately, it seems like NVIDIA just threw Asus under the bus in order to get a little press. Not cool.
source:
Engadget