New HTC Sense launches apps straight from the lock screen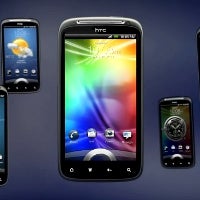 HTC is slowly realizing its vision of a joint hardware-software-cloud experience that it reiterated way back in September last year, when it lifted the veil from the
HTC Desire HD
and
updated Sense UI
.
At today's event in London the
flourishing cell phone manufacturer
got one huge step closer to that goal, announcing HTC Sense 3.0. Running on the powerful dual-core
HTC Sensation
(our hands-on
here
), and its T-Mobile version the
HTC Sensation 4G
, the new Sense UI is designed with speed of interaction in mind.
Starting off with the
lock screen
, you will notice that it now allows you to pin photos or various widgets, for example the weather or FriendStream ones, to it, as well as four app shortcuts. Thus you will be able to launch your most used apps, and have an instant glimpse at the weather situation or your friend's Facebook updates without even unlocking the phone. This should have been an integral feature of Android in the first place.
The homescreens have received a new
3D transitional animation
and endless carousel, so you can swirl through screens, widgets and shortcuts, floating around, until you find what you are looking for. Speaking of eye-candy, the Weather widget now occupies the whole screen and those 3D effects we mentioned are now dispersed throughout the main menu as well.
HTC has included its own productivity goodies in Sense 3.0, like a video editor, task manager, support for Wi-Fi printing, and HTC Trace, the Swype-like text entry method. The limit on tabs you can have open simultaneously in the browser, has also been removed. The social networking integration has been deepened, with even the ability to see if the friend that is calling you has a birthday today, if you have synced your Facebook account.
One of the most useful additions is actually under the hood - greatly
improved shutter lag
, with negligible shot-to-shot times. The next improvement is that the Sense UI now lives up to its name, as it uses intelligently the information from the phone's sensors to know if the handset is in a pocket or a purse, and ring louder, until you take it out, then the ringer diminishes volume.
All in all, these sound like great additions to the already very helpful update that was the
last HTC Sense
version, which brought along the Locations app for offline navigation, HTCSense.com for remote phone management, and other niceties (our video review
here
). We can't wait to get our hands on a Sensation-al unit to review the new Sense UI.