Netflix CEO says mobile app isn't gaining much interest
11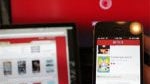 Netflix recently released their streaming video service for
Apple's iOS
and
Windows Phone 7
, and is coming out with an
Android app
shortly. Despite how monumental this seems to us, CEO Reed Hastings is saying there hasn't been much interest in streaming long-form videos to mobile devices.
At the
Web 2.0 Summit
, Hastings said that customers are more interested in streaming videos to their big-screen-connected devices, like XBOX, Playstation 3, and Wii. He also pointed out that Netflix for the
iPad
has drawn surprisingly little interest. His reasoning is that people don't want to watch longer videos on smaller screens, when they could just as easily watch them on their home computers or televisions.
This lack of interest, however, might be limited to the U.S. market. Co-panelist Peter Chernin said that the Netflix app will enjoy greater popularity in countries where a home computer or gaming console are less common. The users would then be much more likely to 'settle' for watching the videos on a smaller screen.
We seriously disagree with the idea that there is no interest in watching Netflix on a mobile device. We will admit that, given the choice, we'll choose our computer or game console every time. The Netflix app might then be more appealing in markets where more users utilize public transit, and are therefore more likely to have a block of time to watch a full show on the go.
source:
Mashable
via
Engadget
Recommended Stories