Navigon is planning to update its mobile apps with a new "effortless and intuitive" interface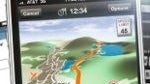 Now that they were gobbled up by Garmin,
Navigon
announced that they will be updating their various mobile apps to bring forth a new "
effortless and intuitive
" user interface. Specifically,
iPhone
and Android handset owners can expect to see the new update very soon, but more importantly, they're also bringing their app to
Windows Phone 7
as well.
Besides the anticipated new look of the app, it'll boast a few new exciting features that will give users more power during their travels. In fact, Navigon's new
MyMaps feature
will allow you to select which map regions you want to download – thus, saving you time and space. With the
Android version
, it'll be blessed with Zagat's ratings & reviews feature, in app-purchases, and the ability to obtain warnings for speed cameras.
Naturally, the introduction of a Windows Phone 7 app is especially invigorating since there are few GPS navigational apps with the platform. Interestingly, it'll take full advantage of Windows Phone 7.5, while bringing along an augmented reality function called Reality Scanner that will identify locations while traveling on foot.
Undoubtedly, it's very refreshing to see Navigon taking the monumental task of updating all of its mobile apps simultaneously, but it's also great that they're moving forward with Microsoft's mobile platform.
via
Pocket-lint